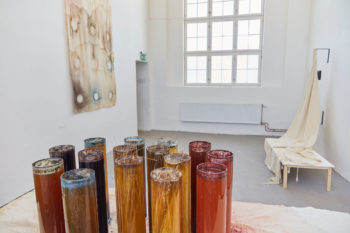 Sjølingstad, Akureyri, Haghed, Gnesta
The project with the working title Sjølingstad, Akureyri, Haghed, Gnesta unfolds and deepens the work of the artists based in smaller towns in Sweden, Norway and Iceland. Questions about the textile craft historically and today are in focus, working closely with local knowledge, and trying to see possible local futures for the textile production chain. The work is characterized by experimental approaches and aims to stimulate artistic thinking both within and outside the project group.
For two years, 2018-2020, we arrange meetings to activate, deepen and disseminate knowledge based on various textile fibers long used in the Nordic countries: the wool, the linen, the hemp and the nettle. In a time when extensive and unnecessary shipments of both products and people contribute to destroying the planet, we want to use what is already in place and to popularize and invigorate knowledge about other possible approaches to textile consumption. The project is based on the work of the hand and the human historical attempt to master the local biotope: cultivation, harvesting and further processing of the fiber, as well as the local conditions.
To these meetings, experts, local knowledge workers and others in the art and textile field are invited. We do study visits, lectures, produce workshops and conversations. In this way we create a new network of smaller towns in Sweden, Iceland Norway – and stimulate movements between older knowledge and new knowledge carriers. To give back to the site, we organize workshops open to the public based on the interests of artists and their own areas of expertise. The workshops are based on manual work, conversation and reflection – what develops organically when working with something practical.
Invited artists: Lina Sofia Lundin (SE), Franz Petter Schmidt (NO), Hildur Bjárnadottir (IS)
Curator: Caroline Malmström, Art Lab Gnesta