Fält
Fält is a magazine that concerns the interactions between contemporary urban culture and rural areas. Based on the artistic production and presentations carried out at Art Lab Gnesta, we want to create a springboard for discussions about art and society, often with a certain focus on environmental issues. The magazine follows our activities and often describes a collaboration or a specific topic. Fält is published by Art Lab Gnesta once or twice a year.
---
Fält #10, October 2019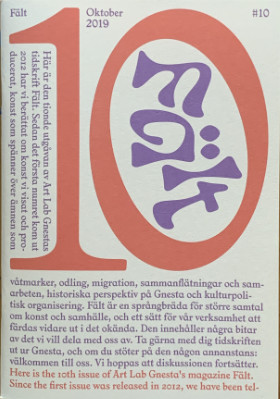 Fält No. 10, published October 2019, contains texts about the The Contemporary Art Days Summit 2019, the network The collective brain, our new greenhouse, Squid Squad, the exhibition The liminal system that runs across the skin of the world, recipes for Kashke bademjan and more. This issue is designed by Lars Høie.