Published: 21 June, 2013
June 22, 2013
The deep-red bloom of a Giant Corpse Flower comes with a very foul odor, reminiscent of the smell of decomposing flesh. In the rainforests of Sumatra – its only native habitat – the stench and meat-like color will attract carcass-eating insects and thus secure pollination. Discovered and named by the Italian naturalist Odoardo Beccari in 1878, Amorphophallus titanum ("Giant Misshapen Phallus") has ever since attracted large audiences with its spectacular bloom. Artist Ingela Ihrman's performance act is part of a series focusing on blooming species which has been given gendered names, such as Victoria amazonica (Giant Water Lily) or the cactus species Selenicereus grandiflorus (Queen of The Night).
In her work, the artist looks at our common need to categorize and structure what we call nature. Starting from botanical, biological and culture critical perspectives the artist focuses on human behavior and structures of Western society, often with a certain sense of humor.The Giant Corpse Flower is a new production made during a residency stay at Art Lab Gnesta this very spring.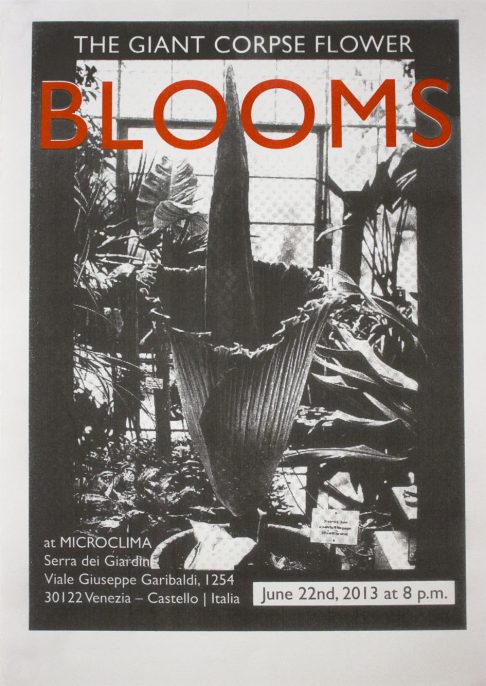 John Skoog's video Late on Earth was exhibited at Art Lab Gnesta during the first months of 2013. In close collaboration with cinematographer Ita Zbroniec-Zajt the artist has captured the moment between dusk and dawn during a light summer night somewhere in southern Sweden. The feeling of something at stake is charged by the late, or early, hour. Here positions of time are made visible – from the modernity of rural areas to that of our time on earth.
Art Lab Gnesta is a self-organized space for production and presentation of contemporary art, located south of Stockholm (Sweden). We are interested in relationships between art and artists, the local community, schools, art institutions and others involved in the arts or social issues – locally, nationally and internationally. During 2013 we initiate a collaboration with Microclima, Venice, and June 22nd will be the first collaborative event. We will bring a piece of Gnesta to Venice, inviting the visitors to taste goat cheese from Sörbro gård, tomato marmalade from Norra Stene Skafferi, and pine needle jam and birch sap from Högtorp gård, all producers located around Gnesta. Also, the second issue of our magazine Fält will be released this evening.