Published: 11 March, 2021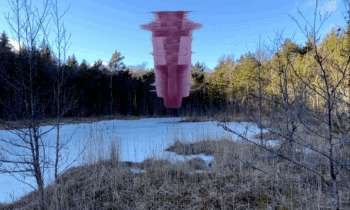 Last year, the exhibition Morphology of Errors by Malin Franzén opened at Art Lab Gnesta. A couple of weeks after its opening, the exhibition had to close due to local Covid-19 restrictions. Now, we present a recorded artist walkthrough (in Swedish) of the exhibition in conversation with the curator Caroline Malmström.
Since the exhibition closed, Malin Franzén has continued her work by artistically investigating how the exhibition's own morphology is shaped by various digital representation processes. Combining tools such as photogrammetry, 3D printing and VR modeling, the artworks collect new leftovers and digital debris, examining their inherent qualities, logics, forms and relationships.
A new version of the exhibition will be open for visits between April 17 and May 23.