Published: 24 September, 2021
Open for exploration: 24 September 2021.
The Centre for Swamp Knowledge is a collaborative endeavour to gather different forms of knowledge and artistic work that have inspired and/or been produced in the context of Art Lab Gnesta's fascination with wetlands.
The swamp is a teacher, a messy source of knowledge. In it, we enter an altered state of mind, opening up into different ways of encountering and thinking about the world and its entanglements. The wetland absorbs us, and in it embrace we surrender to the logic of wetness, letting it sink in, like our body is sinking into the waterlogged earth.
This project embraces the swamp as a liminal space, an interstice between different states, never fully one thing nor the other. Between shallowness and depth, decomposition and preservation, bureaucratic reality and wild myth, the wetland is in constant transformation. Depending on the season, it hardens or melts, oscillating between menace and protection. The swamp defies linear time: bog bodies rest in its depths undisturbed and identical for thousands of years, and after years underwater dragonflies emerge into the open air to die in less than 48 hours. It is also a space of resistance, raising questions about who and what is considered disposable, while helping us recalibrate our thinking around the interconnectedness and symbiotic relationships between all living organisms.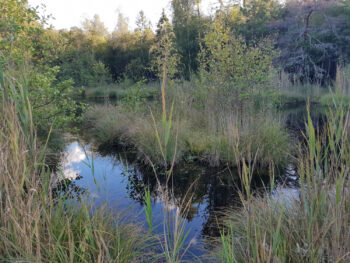 In the same way as a swamp is this ever-changing, shifting, complex, multilayered, generous ecosystem that is nearly impossible to pin down and reduce to one form, so this project is part-archive, part-collection, part-library, part-exhibition, refusing to fit neatly into one category.
The Centre for Swamp Knowledge is hosted by an old refrigerator in the greenhouse of Art Lab Gnesta. While this might seem like an odd space at first, in the mangroves of India, the only way to preserve books from being softened and consumed by humidity and mould is to preserve them in an unplugged refrigerator. The refrigerator becomes a protector, a guardian of knowledge. While the humidity is so extreme in Gnesta, the refrigerator is both the repository and caretaker for Art Lab Gnesta's relationship to the wetland.
The contents of the refrigerator in their current iteration were gathered over several months of exchanges with past and present artistic and scholarly collaborators of Art Lab Gnesta. Like a swamp itself, the refrigerator will change and transform to accommodate new collaborations and projects. Rather than an attempt to petrify the wetland into a monument, this project is intended as an ever-shifting, adaptable, non-linear exploration of the swamp in all its glorious, blurry, depths.
Isabelle Ribe
---
With contributions from:
Axel Andersson, Bronwyn Bailey-Charteris, Anna Märta Danielsson, Malin Franzén, Gideonsson/Londré, Hanna Husberg, Signe Johannessen, Ada Kästel, Caroline Malmström, Ulrika Ohlgren, Kati Roover & many more.
Curator/archivist: Isabelle Ribe